Top Ten Books Which Feature Characters Who 
 Deserve Their Own Television Show
Margo Roth Spiegelman from Paper Towns is a natural for the attention of being a leading lady. She is powerful and determined which would translate to the television screen as a strong female role. I am thinking a cross of Rory Gilmore and Blair Waldorf–smart, cool, and in charge.


Minny Jackson from The Help would give Dr. Phil a run for his money. I think she would make an excellent talk show host. Her bluntness is the best thing about her, in my opinion.
All of the characters from The Little Lady Agency should have their own show. The adventures that Melissa experiences during the series is a sitcom in the making.
Lisbeth Salander from The Millennium series is t

he perfect character for a lead role in an action show. She's a kick butt now, ask questions later kind of girl. Think Sydney Bristow from Alias or Buffy Summers from Buffy the Vampire Slayer.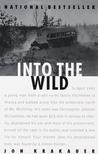 An ideal candidate for a reality TV show would be the character from a nonfiction book like Into the Wild. Christopher McCandless' story is one that stuck with me long after reading the book. He could be the host of a nature/adventure show.
Peeta from The Hunger Games should have his own show on Food Network.
Amy from Gone Girl would be a great new contestant for a Real Housewives of Missouri.
Will Grayson, Will Grayson's Tiny Cooper may have his own story now in Hold Me Closer but he'd be fabulous in his own television show.
Dan Brown's Robert Langdon would make crime/thriller shows more enjoyable.
Hagrid is one character I would love to learn more about from The Harry Potter series. I know I'm not alone.
This Top Ten Tuesday list topic is brought to you by The Broke and the Bookish. Each week yields a new topic and a new list. Thanks for stopping in this week to check out my list*.
---
*I understand some of these books and their stories have already been made into movies which I have enjoyed. Some stories we can't get enough of which inspired my list.